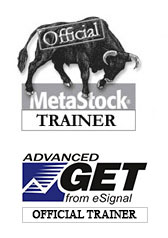 With OVER A DECADE of dedication in the field of Technical Analysis, VIRATECH focuses on providing quality solutions and training on Technical Analysis. Having over 200+ man-years of experience, we take you through the worlds most proven trading techniques and strategies. With a National & International presence, VIRATECH from the very beginning has equipped a large number of individuals / corporates / banks / institutions with the latest in Trading Strategies & Technologies.
Not only would you get a complete exposure to the worlds most proven trading platforms and systems but you would also experience a perfect blend between both classroom presentations and practical sessions.
With an exposure to Day Trading situations, End of Day analysis as well as Derivatives we ensure that we instill in you the knowledge, power and confidence to be a truly successful trader and analyst.
This way VIRATECH makes Technical Analysis work for you and gives you a truly profitable and scientific trading approach.
Workshop Content
Participants would be trained keeping in mind the very latest Technical Analysis Software & Systems. The course content is strategically structured to ensure in-depth understanding that meets the International standards of Technical Analysis education using real examples with reference to Indian stocks.
Please contact us or click on the links above to view more detailed information on a specific workshops Content / Schedule.
VIRATECH has always focused its training programs with tremendous emphasis to practical implementation rather than imparting conventional / 'bookish' knowledge. With this focus in mind we not only ensure active participation of each participant but also do Individual & Group exercises on tough real life trading situations.
Conducted by Mr. Mohindar, whose sheer command and practical approach creates the frequent face on CNBC & CNN-IBN, he had also been frequently appearing on NDTV Profit, Awaaz, Headlines Today, Zee Business. His findings have also been carried in leading dailies including The Hindu & Economic Times.
He has trained and interacted with hundreds of real life traders and also equipped leading Institutions with the very latest in tools and tactics. With a constant International participation Mr. Mohindar clearly believes that you are responsible for your money and has a very crisp mission in each seminar.to make you independent and practical.. to trade it right each time! Last but not Least, it all comes to you from an experienced and active trader sitting in your shoes putting his money on the line everyday! Unlike others who are over theoretical, he makes it implement-able and even goes out to show it to you LIVE !
Mr. Mohindar has not only given inputs into the World's #1 systems but is also the creator of several of his own proprietary trading systems and indicators. He continues to be a part of major worldwide events, including the biggest seminars and expos across the globe.
*Registration is on a first come first served basis and is confirmed on payment. Limited Seating.