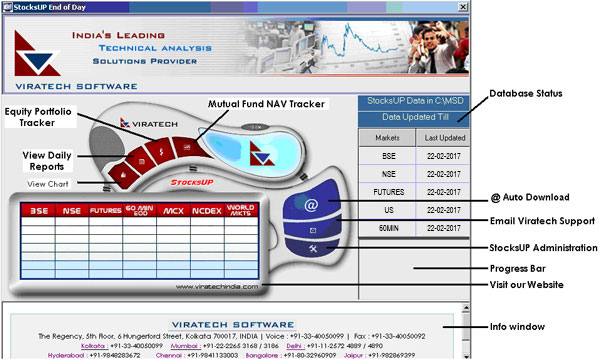 StocksUP powers you with complete historical data and daily updates for ALL Stocks, Futures and Options at BSE & NSE and also includes several indispensible value added features. StocksUP also brings you exhaustive Commodity, Forex and World Market data that gives your analysis the extra edge.
StocksUP data is fully compatible to the world's best platforms including MetaStock and Advanced GET and is so user friendly that all it takes is 1 click to download and update. Besides that, all the data gets automatically adjusted for Splits / Bonus / Rights / Name Changes etc. as and when they occur. Newly introduced Stocks / Commodities too get automatically added to your database giving you complete freedom and flexibility.
Updates get Auto Downloaded via our dual web servers accessible anytime anywhere via the internet. In fact you would be pleased to know that VIRATECH is India's Only Authorized MetaStock & Advanced GET vendor in INDIA.
Below are the summary of the various features and services provided
Complete Historical Data would be provided for :
BSE (From 1984, Sensex from 1979 with volumes)
NSE (From its inception in 1994)
US Stocks (including Nasdaq 100, S&P 500, ADR / GDR's) comprising of almost 25 years of history!
40+ World Market Index's starting from 1980
International (starting 1970) and National Commodity data (from Inception of MCX & NCDEX)
The data covers over 9000 companies + Major Market Index's and is completely adjusted for all Bonuses, Rights, Name changes etc. All future changes will automatically be incorporated through StocksUP.
You would get daily price and volume updates for all Stocks, Index's, Futures & Options including Advances - Declines - Unchanged data & charts
Directory Structure & Customization
StocksUP segregates illiquid stocks into inactive / dead folders. This gives you the convenience especially at the time of running scans / explorers giving you a faster speed and at the same time does not allow illiquid / non-tradable stocks to feature in your results. In the event that any of these stocks becoming active they would automatically be transferred to their respective folders.
Lastly you can even create custom directories where you can organize your portfolio / favorite stocks.
LIVE Hourly Updates
NO WAITING till the End of the day : Benefit from free LIVE hourly updates during the trading day for major NSE Stocks including ALL current month Futures... that's over 500+ Symbols every hour!!
Get a more current feel as the market moves. You can now even study 60min charts that are updated every hour along with the standard Daily / Weekly / Monthly charts (that will also feature today's bar as the hour ended!)
This value add is undoubtedly a smart solution for every short term trader!
Over and above LIVE hourly updates, StocksUP gives you great functionality even post market : Get a big scoop of data in just 15 minutes post market (15:45 hrs IST), which gets you fully updated charts for all current month NSE Futures, and ALL stocks of the NSE Nifty, Junior, Midcap and BSE Group A.
Auto Download
In just 1 click StocksUP intelligently detects, downloads and updates any missing data. Whether its a Bonus, Stock Split or a new listing its all adjusted immediately and instantly. To top it all, new versions and Upgrades of StocksUP come to you absolutely FREE via an auto download via the internet!
System Requirements
The Software works with the Windows 7, Windows XP and Windows Vista. We recommend at-least 3GB RAM and require 1GB of Hard disk space. Whilst the software may work with Data Cards / GPRS / Dial up connections, a hi-speed broadband connection (512k) or higher is essential and required for product updates / downloads / support.
SpikeFinder : A unique utility which helps you keep your data SPIKE FREE!!
Often the market opens at a bizarre price which no one may have even seen on a trading screen, these spikes can be filtered out by using the spike finder utility so that you can study the "True Picture"
You'd be using very accurate charts once you get rid off those big spikes / freak trades / false opens and get the TRUE PICTURE with all the RIGHT SIGNALS. Click here to see a real example.
VIEW REPORTS ARCHIVE
Get ahead with this essential everyday capsule of Information! Our Daily market reports now carry a whole lot more essential information and statistics giving you a quantum leap in today's dynamic markets. Not only do you get all the information as mentioned below, the archive stores every days report and gives you the option to view / delete any days report on any day / time at your convenience.
Book closures dates
ND Periods
Corporate Actions / Company Announcements
Board Meetings Alerts - Meetings scheduled tomorrow / Forthcoming meetings
Futures & Options data including Open Interest / Volume
Top Gainers/Losers in terms of Price (GroupWise)
Top Gainers/Losers in terms of Volume (GroupWise)
Advances - Declines (GroupWise)
Top 20 stocks on the basis of Turnover
Scrips which went X-Bonus / X-Dividend / X-Right
New 52 week High-Lows created
SAME DAY updates for MCX, NCDEX and International Commodities Get CONTINUOUS or CONTRACTWISE daily charts*
We do understand your needs for comprehensive yet timely commodity data, and not only do we equip you with a comprehensive list of commodities with both a national and international flavor, but also very timely same day updates. That's not all, enjoy access to both continuous and contract wise charts for ALL NCDEX and MCX commodity data.
Last but not least, you would also get key International Commodity data (including key data of CBOT, NYMEX, CME, COMEX)
60min Charts of ALL MCX and NCDEX Commodities
A superb value add that gives you the ability of seeing contract wise 60min charts
This enables you to analyze the exact contract / month you are trading and facilitates accurate short term analysis.
*MCX & NCDEX updates are available End of Day only, however we do offer alternate solutions for real time MCX and NCDEX data.
NEW Web based Support System
Viratech's StocksUP program is now powered with a unique web based installer and support system, this means in the event your database gets accidentally damaged / deleted we could guide you over the web and you'd be up and running in quick time. You don't even need to wait for a CD / support staff to reach you!
See the BIG Picture with WORLD Market Data
International data for Stocks, Commodities, Indicies & Forex
For an in-depth perspective StocksUP brings you End of Day data with over 2 decades of history for...
Over 40 World Market Indexes
Key US stocks (including ADR's / GDR's) including all Nasdaq 100 stocks
All S&P 500 stocks
International, NCDEX & MCX Commodities (including Castor Seed, Jeera, Kapas, Sugar, Red Chilli, Rice, Urad, Turmeric, Wheat, Yellow Peas ,Crude Palm Oil, Chana, Guar Gum, Guar Seed, Jute, Pepper, Rapeseed, Raw Jute, Platinum, Gold, Silver, Aluminum, Steel, Nickel, Cotton, Cocoa, Coffee, Copper, Crude, Natural Gas, Soy Meal, Soybeans, Soybean Oil, Wheat)
Forex data including cross currencies with data up to 4 decimal places.